14

Jul

LED Upgrade for Highland Spring
---
Established in 1979, Highland Spring Group (HSG) has consistently been one of the UK's most successful suppliers of bottled water. It operates and maintains factories and warehouses in Blackford, Perthshire and has had a long-standing commitment to maintaining facilities that incorporate the latest and most user-friendly technologies.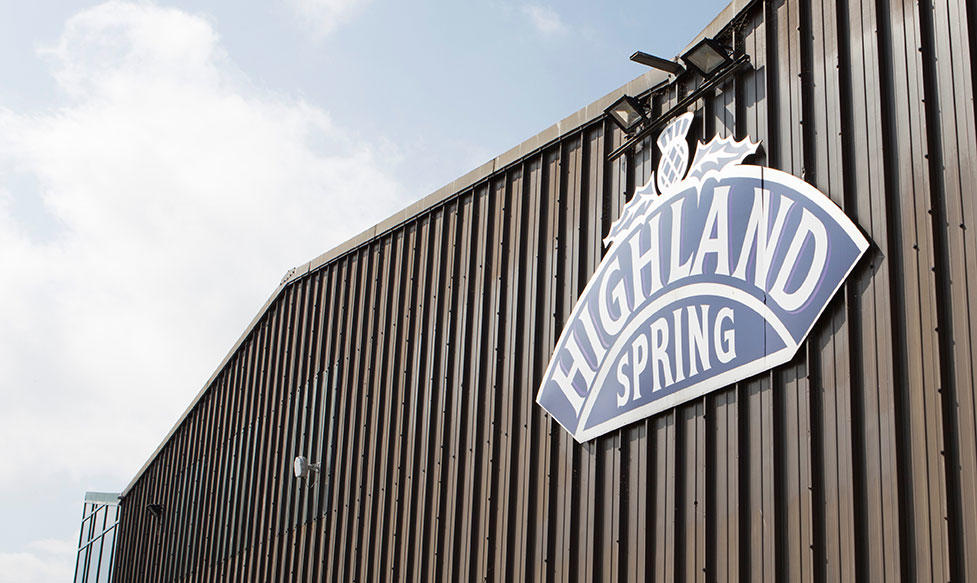 This emphasis recently led to a review of the lighting provision at the warehouse in Blackford, where storage and dispatch of the finished bottled water product takes place. A legacy system of low-bay SONs in various areas of the warehouse had proven itself to be inadequate on several levels. In some spaces light levels were as low as 20 lux, whilst the 'warm up time' of nearly 10 minutes for the fixtures was having a negative effect on productivity and general navigation. It was also envisaged that this could lead to serious problems in the event of an extended power outage.
The issues with the existing system had been commented upon by managers and employees alike, so HSG invited John McCormick at BFE Electrical to investigate a replacement specification based around high-efficiency, high-output LED products. Having regularly selected Tamlite Lighting LEDs for all manner of industrial projects, McCormick soon determined that the Redditch-based manufacturer was best-positioned to supply a suitable solution.
"It was clear that there was a great deal of room for improvement at the Blackford warehouse – particularly as the facilities manager pointed out his required minimum illumination level for the new system was 350 lux," says McCormick. "The potential of Tamlite products to deliver a greatly improved solution quickly became apparent, so I worked closely with our local Livingstone branch of CEF (City Electrical Factors) and Tamlite Sales Engineer, Andrew White, to devise a new design based around Tamlite LED EXPOs."
A popular choice for industrial, warehousing and sports hall facilities, the EXPO LED low bays offer a great deal of flexibility for different applications with a mounting height of up to 20m. Featuring a high-performance optical array and in-house LED boards,, EXPO delivers: a high-output LED low bay; Emergency and VISION control options; CRI: Ra>80; up to 150 lumens per Watt efficacy; and 50,000 hours' lifetime all designed and built within the U.K.We are so pleased with the new lighting that we are currently in the process of upgrading other areas of the site with Tamlite LED lighting, including the bottling and production rooms.
And right now, Highland Spring Group is savouring the benefits of what has been a substantial improvement in lighting consistency and quality. Davie Simpson – Site Engineering Manager at Highland Spring explains: "Although there is no legislation for required illumination levels it's really important to us that our premises are brightly lit for staff comfort and safety. On a specific point it was crucial that the new solution be glare-free so that it didn't dazzle forklift drivers who need to look upwards at high racking – and that has been achieved."
More generally, the new system has made a "dramatic difference" to the quality of lighting throughout the warehouse. It is now crisp, clear and a pleasant daylight colour – improving not only the general working conditions, but also giving the space a welcome fresh look and feel.
The improvement has been widely remarked upon by staff – "personnel seem happier thanks to the enhanced lighting quality," says Mr. Simpson – and as successive studies have shown, this is likely to translate to improved productivity in the long-term.
"We are so pleased with the new lighting that we are currently in the process of upgrading other areas of the site with Tamlite LED lighting, including the bottling and production rooms," says Mr. Simpson.
Reflecting on a project that saw Tamlite work "very closely and successfully with both BFE Electrical and Highland Spring", Colin Lawson, Tamlite's Head of sales, marketing and product development says that the project further underlines the "dramatic improvement to lighting conditions that the EXPO products have delivered to a host of industrial environments. Enquiries about the EXPO range have continued to rise in parallel with the overall growth of interest in LED technology as a whole. We are delighted that the system has worked out so well here and are grateful for Highland Spring's feedback about the quality and consistency of the new system."