30

May

Lighting 'Protected Paradise' at the Venice Biennale
---
'Protected Paradise' is a striking, 12 metre high, mixed media installation created by Belgian artist Koen Vanmechelen located in the garden of the Palazzio Francetti for the 2017 Biennale di Venezia (Venice Biennale) contemporary visual art exhibition.
Luc Peumans of Painting with Light was contacted to light the work, a thought-provoking piece encouraging viewers to engage and question the impact of humanity on a rapidly transforming planet. He contacted Antwerp-based architectural LED lighting manufacturer and specialist Lux Lumen to light the piece.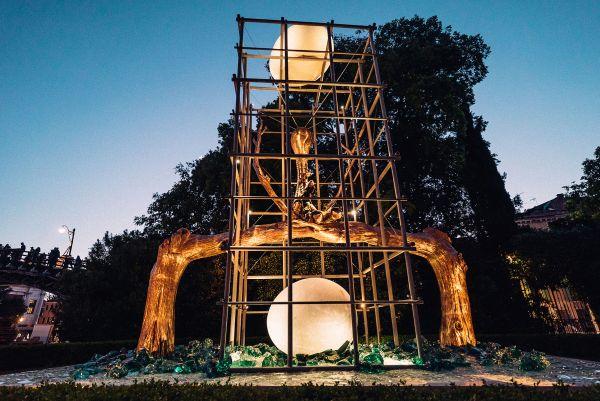 It consists of two bronze trees, a 4 metre bronze chicken claw (symbolic of the human being), two eggs made out of marble and fibre respectively (the eggs of hope) and an impressive cage constructed from recycled material, made by ECO-OH.
The bottom egg is constructed from Carrara marble and weighs 12 tonnes.
The overall construction of the piece was managed by Koen Verhaert of ECO-OH!, based at Laakdal in Belgium and they asked Luc on-board for the intricate task of lighting the piece, working to a brief from Koen Vanmechelen himself.
Luc is used to challenging lighting and visual projects but this was on an altogether other level, he explained, "It needed an exceptionally precise and delicate approach. The responsibility of lighting someone's creative and emotional expression is intense. It's nerve-wracking BUT also extremely rewarding!"
Luc had just two weeks to craft a lighting scheme for 'Protected Paradise' and, in line with the context of the work, it needed to be as carbon-neutral as possible.
He contacted Antwerp-based architectural LED lighting manufacturer and specialist Lux Lumen, specifically about their StarEye fixture. This small 1cm diameter, 2cm long, highly efficient 1 Watt LED solution for outdoor detail lighting is available in Micro and Maxi versions and a range of colour temperatures as well as different lenses.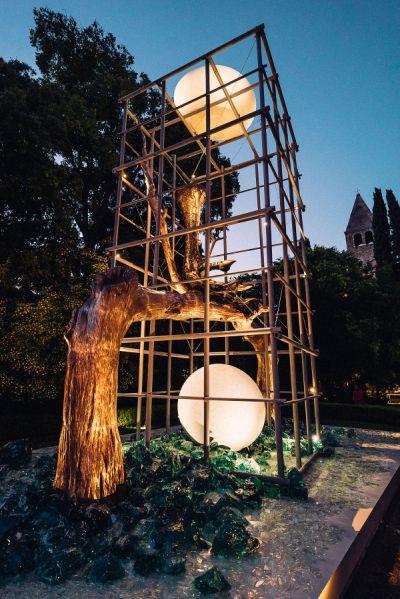 These fixtures were chosen because they could easily be integrated into the structure as it was vital to keep the lighting as discreet and concealed as possible.
Cool 4000K white units were chosen to highlight the eggs, maintaining and gently accenting a pure white appearance. For the bronze trees and the chicken claw, Luc decided on 2700K StarEyes - a selection of spot and wash fixtures. A total of 28 x Micro StarEyes are used to illuminate the work internally.
On the outside, the Maxi size of StarEye is used – which is a 10W fixture similar in size to a 'birdie'.
Four StarEye Maxi's are located outside the cage structure, with another two inside which are completely covered with broken industrial glass a treatment required to produce the specific reflective effects stipulated by the artist.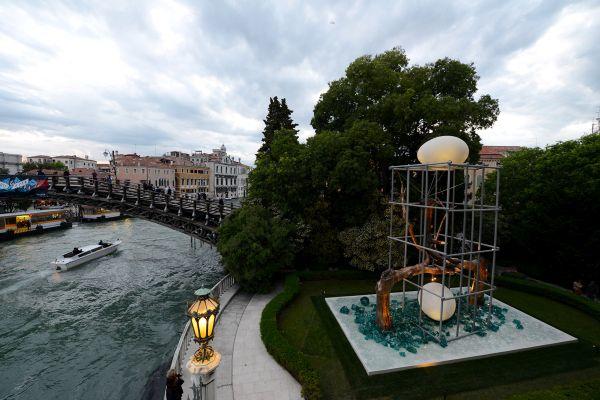 There is also one Maxi positioned on top of the Palazzio Francetti to illuminate the top of the egg.
This highly appropriate and carefully refined lighting scheme consumes just 90 Watts of power, so is very energy conscious as well, as a subtle and understated compliment to this interesting work.
Koen Vanmechelen comments, "Light is the constructor of the detail and it was essential to my installation - it could make or break the piece".
Koen and Luc are both based in Genk and have been aware of one another's work for some time. "It was a great honour to finally meet Koen in person and very exciting for us to work together on this project. I look forward to future collaborations in the world of art," states Luc.
Protected Paradise can be enjoyed at La Biennale di Venezia until November 26th 2017.