KITSOUND KS1WH KITSOUND IN EAR HEADHONES WHITE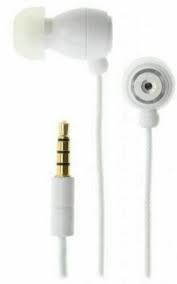 KITSOUND KS1WH KITSOUND IN EAR HEADHONES WHITE
---
---
KitSound bring you these super cool metal ear-buds in white, that not only deliver high velocity sound, but they will make your ears look really cool.

These distinctive buds pump out a rich and articulate sound with a powerful bass

The noise isolation blocks out annoying background sounds, leaving you free to enjoy your music in total isolation.

The small, medium and large silicone tips are provided to make sure you get a perfectly comfortable fit.

Check out the range of colours available for this season. Why not grab a few to go with your hot summer outfits! Available in Glowing Green, Piercing Pink, Classic Black and Bright Blue.

Avoid using earphones with the volume turned up for an extended period of time. Doing so can damage your hearing. For your own safety, please do not use when driving or cycling.
---
The item has been added to your basket