18

May

LED Lamps with Dim-to-Warm Technology are a Hit
---
With advancements in LED technology, LED lamps that are available in the market are now loaded with added features and specifications. Until recently, many of these current features were not found in LED lamps. While LED lamps replicated the shape of traditional lamps, and could dim to low levels, they could not change the colour appearance. They did not have the feature to become warmer as the light output reduces.
However, now LED lamps come with this new feature—they become warmer as you dim them, and turns to warm tones of traditional bulbs. Usually, this feature is more common in traditional filament lamps, which become warmer as you dim them, and as the filament dims, the colour changes to a warmer orange and yellow. The colour temperature and CCT also reduces as you dim them.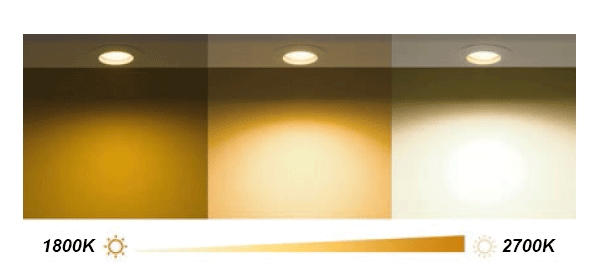 However, the traditional dimming filament lamps actually don't save energy since the light emitted reduces faster than the power consumed. But LED lamps with the same feature can save more energy.
Rightly designed driver circuits can dim LED lamps smoothly and can also deliver energy savings. However, when you try to dim LEDs with legacy phase-cut or triac dimmers, the designers face certain problems as those dimmers are not developed to work with a switching power supply like the one in an LED driver.
How LEDs dim was another problem. As the light level reduces, LEDs maintain the same color temperature that they exhibit at full power. On the other hand, incandescent and halogen lamps dim to a warm CCT at lower levels, and this is a desirable aesthetic in the hospitality industry.
LED designers and manufacturers have been able to address this issue. Now, many drivers for LED lamps can support dimming, and many LED lamps have dim-to-warm capability.
This functionality is achieved by adding red or amber LEDs into a fixture or lamp. That requires a second driver channel to control the separate LED strings. As the drive current gets reduced, the amount of energy supplied to the red channel increases relative to that supplied to the white channel.
With dim-to-warm technology, LED lamps can now deliver 2700K–3000K CCT light at full power yet smoothly reduce the CCT to the 1800K at the lowest light levels.
Dim-to-warm capability in LED lamps are now being offered in a big way by most major LED luminaire makers. Osram Sylvania have a broad line of 2500K lamps for hospitality applications with dim-to-warm capability.
Megaman's LED products with dim-to-warm system, emit a warmer light when they are dimmed with a colour temperature that changes smoothly from 2800K to 1800K when dimmed from 100% to 10%.
Philips LEDs with warm glow dimming effect enables light levels to dim to warm tones of traditional bulbs. While you reduce the brightness using a dimmer switch, you will see a sunset-like drop in the color temperature, from a yellow 2,700K down to a tone that's more reddish-orange.