17

May

Osram Buys Stake in Grow Box
---
Osram has taken another step into horticultural lighting, this time targeting the residential market by acquiring a minority stake in a German startup that makes climate-controlled boxes for growing greens and herbs in the kitchen using optimised light, water, and temperature.
Munich-based Osram did not have to look far to find the firm, agrilution, which also operates out of Munich and which was already using tunable Osram LED technology inside its grow box.
The box, called plantCube, is about the size of a compact refrigerator and intelligently controls light spectrum and intensities to cultivate lettuce, basil, dill, parsley, chard, spinach, beetroot, and other produce.
Neither company disclosed the size of the investment, which Osram made through its quasi-independent venture capital arm, Fluxunit.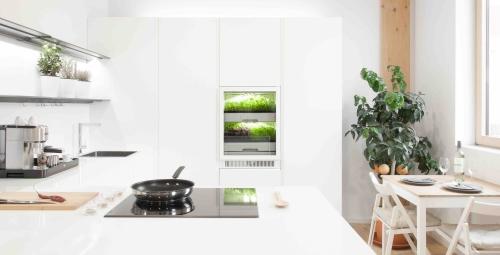 "The smart home appliance identifies the seeds that have been planted and provides an optimal growing environment by automatically regulating temperature, watering, and lighting conditions," an Osram spokesperson said. "This makes it possible to grow herbs, salad, and vegetables regardless of weather and climate."
Users can further control and interact with plantCube via a smartphone app.
"Osram, with its lighting and horticultural expertise, can help to improve and enhance agrilution," said Fluxunit boss Ulrich Eisele, who called agrilution "the perfect fit for Osram."
Other investors in agrilution include Tengelmann Ventures and Kraut Capital.
Osram is one of many companies chasing the horticultural lighting market, where technology continues to advance to help apply customised lighting conditions to different plants. With the horticultural industry valued in general at $300 billion by the US Department of Agriculture, the opportunities for LED lighting could be enormous.
A year ago, Osram Americas introduced its Zelion HL300 line of fully-spectrum-tunable and dimmable horticultural lighting products for users to deploy throughout various stages of crop growth.
Earlier this year, Italian commercial basil grower Servizi Ambientali Bassa Reggiana reported a boost in yields from lights made fixture maker Ambra using Osram components. The grower also said it slashed energy usage by 56% relative to the high-pressure sodium (HPS) lighting used previously, and increased yield via a five-day-shorter production cycle enabled by the solid-state lighting (SSL).