10

Jul

Wimbledon goes LED
---
American sports lighting specialist Musco has installed LED lighting in the retractable roof that covers Wimbledon Centre Court. The move improves the quality of TV broadcasts and, unlike the metal halides, allows instant striking.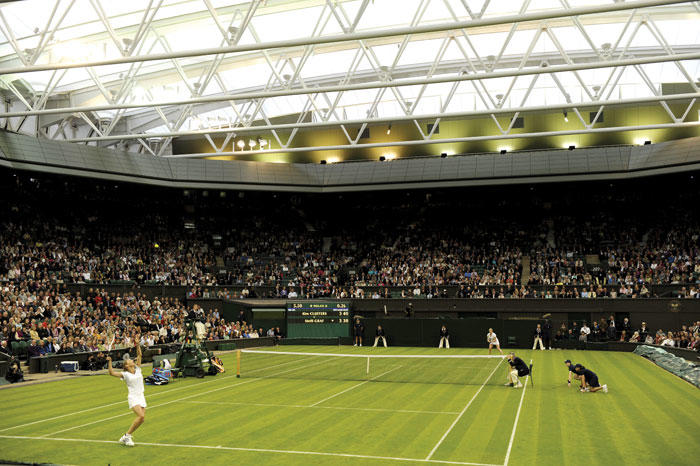 'The purpose of the project was to improve the quality of lighting for broadcasters, whilst simultaneously improving the functionality of the lighting as part of the roof operation,' said AELTC estate director Robert Deatker.
'Specifically, this involves reducing the amount of time required by the lights to warm up or cool down, thus making it quicker to resume play,'
The installation is part of growing switch to LED in top-level sports. Many Premier League teams – including Chelsea, Arsenal, Southampton, Bournemouth and Hull City – have already made the switch as have Juventus in Italy and Seville in Spain.
In the US major league baseball teams using solid state lighting including the New York Yankees, the San Diego Padres, Texas Rangers, and Houston Astros.
Musco, working with consultants ME Engineers, created a mockup of the Wimbledon visual setting at its US manufacturing facility to test different CCT and CRI combinations to achieve the optimal combination of direct and indirect light. It also consulted with a UK-based TV crew and professional tennis players to fine-tune the specifications.
Ultimately, the project went forward based on luminaires from Musco's TLC for LED system that was announced in December of 2016. TLC refers to Total Lighting Control and the ability to direct light precisely to where it's intended and to eliminate light spill. The luminaires have somewhat of a rectangular shape with an array of LEDs recessed in a housing. The LEDs individually deliver a precise beam and the housing further serves to control the pattern. The TLC for LED family includes products that can be used from recreational settings to professional venues.
The Wimbledon LED lighting installation uses rather cool 5700K CCT luminaires. The 90 CRI enables colors to pop and of course makes the ball easier to track. Depending on camera position, the vertical illuminance is 1300–1700 lx and horizontal illuminance is 3000 lx.
Jeff Rogers, president of Musco World, acknowledged the pressure of pleasing the AELTC team and the players who expect top performance from the LED lighting. "Our LED technology has been customised to meet those needs with the highest quality light without creating glare," said Rogers. "We're confident that when the lights go on at this year's Championships, it will create an amazing atmosphere for players and fans."